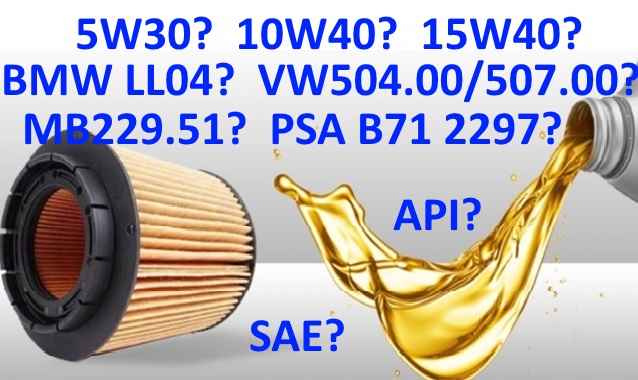 How to find my engine oil?
The first step is to check in the maintenance book of his vehicle if there are standards and specifications manufacturer (on our site approval)?
eg
BMW: Longlife 01 (on our website LL01), Longlife 04 (on our website LL04), ...
Chrysler: MS-11106, ...
Fiat: FIAT 9.55535-N2, FIAT 9.55535-Z2, ...
Opel: GM Dexos 2, GM-LL-A-025, ...  
Jaguar: STJLR.03.5003, STJLR.51.5122, ....
Mercedes: MB229.51, MB229.52, ...  
Porsche: C30, C20, ...
Peugeot: PSA B71 2296, PSA B 2297, ...
Renault: RN 0710, RN 0720, ...
VW, Audi, Seat, Skoda: VW504.00, VW507.00, VW505.01, ...
Ford: WSS-M2C-920A, WSS-M2C913-C, ...
If you have a standard or manufacturer's specification (on our approval site) then you can already order your oil, go to our website or click on this link: https://www.allmyoil.com/en/5-approval
You do not have a standard or manufacturer's specification (on our approval site) so keep reading
Second step choose its oil by its viscosity. (eg 5W-30)
It's very simple, you only have to ask two or three questions.
Firstly, does my vehicle have a particulate filter (DPF)? If so then I have to put 5W-30
Secondly I ask a lot my engine? Many stops and restarts, sports driving, ...
Third, how are my trips? City, Highway, Highway Fourth,
how do I want to do my drain intervals? Standard, short or extended Fifth
I have an older gasoline vehicle (over 18 years old), a diesel without Turbo or a lot of kilometers? In this case I advise you a 15W-40 or 10W-40 The oil is thicker but it is advisable to reduce your emptying interval.
What viscosity to take?
Engine oils 5W-30 or 5W-40 say 100% synthetic
- Ideal when you ask a lot of your engine so many stops and restarts, sports driving, ...
- easier start
- Made for latest generation engines.
- Vehicle with particle filter (FAP)
- Fuel economy
- Particulate filter protection (FAP), catalysts and environment
- Long drain intervals (gasoline between 10,000 and 15,000 km, and diesel between 20,000 and 30,000 km)
10W-40 engine oil called semi-synthetic
- Ideal for mixed routes (city + road) and if you normally request your engine, but in exchange a standard emptying interval (diesel 10,000 km) Super quality / price
- Good engine protection
- Improves cold start.
The engine oil 15W-40 called mineral
- Ideal for gasoline engines (over 20 years) or diesel without turbo or high mileage
- A thicker oil can compensate for heavy oil consumption.
- emptying intervals to be reduced (less than 7.500 km)
- Light use (majority routes)
 Summary table (BE CAREFUL if there are standards and specifications manufacturer«see step 1»)
Viscosity

denomonation

Type of driving

Type of road

Motor

Note

interval

5W30

Oils say 100% synthetic

You strongly demand your engine, lots of stops and restarts or sporty driving, ...

City + Road + Highway

Recent engines vehicles with particle filter (FAP)

-free start easier

-fuel economy

-Protection of the FAP, Catalysts and environment

Gasoline: 10,000 km to 15,000 km

 

Diesel 20,000 km to 30,000 km

5W40

Oils say 100% synthetic

You strongly demand your engine, lots of stops and restarts or sporty driving, ...

City + Road + Highway

Recent engines vehicles No particulate filter (DPF)

- cold start easier

-fuel economy

-Protection of the FAP, Catalysts and environment

10W40

Oils say semi-synthetic

you normally request your engine

Mixed trip (city + road)

good engine protection

-Good quality / price

-Improves the cold start

Diesel: 10,000 km

15W40 or 10W40

Oils say mineral

petrol engine (over 20 years old) Diesel without turbo or many km

road

Petrol over 20 years

thicker oil can compensate a significant oil consumption

reduce the intervals of emptying, the oil loses its lubricating properties more quickly. (less than 7.500 km)